The Rev. Mary B. Gregorius
Rector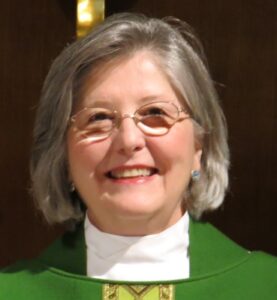 Mother Mary+ joined the spiritual journey of St. John's Episcopal Church in late July 2012, after having served as chaplain both in Westchester and Dutchess County hospitals for 15 years and at the World Trade Center Disaster site in 2001-2002.
Prior to receiving her call to St. John's, Mother Mary+ served at St. Margaret's in Staatsburg, NY, St. John's in the Village, NY, and Christ Church, Poughkeepsie, NY. In life before ordination, Mother Mary+ was deeply involved in church music, both performing in and leading choirs in the greater Poughkeepsie area. As well as in the contracting business as a Kitchen Designer and Project Manager.
Educated at Westminster Choir College, Empire State College, and General Theological Seminary, Mother Mary+ brings a wide variety of creative, business, and theological skills to the work of Christ at St. John's.
---
The Rev. Deacon Lynn Werdal
Deacon Emerita
Deacon Lynn started her career as a Registered Nurse, and spent 20 years at Mt. Vernon Hospital, 10 of which were as Director of Nursing. She then became Vice President of Patient Care Services at Griffin Hospital in Connecticut, a post she held for 14 years.
In 1994, Lynn was ordained into the Diaconate and was assigned to St. Thomas' in Mamaroneck, where she served for 20 years. During her time at St. Thomas' she initiated a Feeding Program, coordinated Monthly Community Dinners, the Pumpkin Patch, and supervised the Thrift Shop. In addition, her mission work included working with Appalachian Rebuilding in Kentucky, trips to New Orleans to help with the rebuilding after Hurricane Katrina, four Pilgrimages to Tanzania in support of the Carpenter's Kids, and two Pilgrimages to the Holy Land.
On the Diocesan level, she has served on the Episcopal Charities Advisory Committee, and the Commission of Ministry, and has been involved in the Diocesan Indaba Program.