Worship, September – October 2023
Below is our schedule of Worship Services for September – October 2023
Sept. 17, 9:30AM – Holy Eucharist, Children's Chapel
Sept. 24, 9:30AM – Liturgy of the Word, Children's Chapel, Blessing of the Backpacks
Oct. 1, 9:30AM – Holy Eucharist, Children's Chapel
Oct. 8, 9:30AM – Holy Eucharist, Children's Chapel, Blessing of the Animals
Oct. 15, 9:30AM – Holy Eucharist, Children's Chapel
Oct. 22, 9:30AM – Holy Eucharist, Children's Chapel
Oct. 30, 9:30AM – Holy Eucharist, Children's Chapel
COVID-19 protocols are located here.

Eucharist at 9:30 am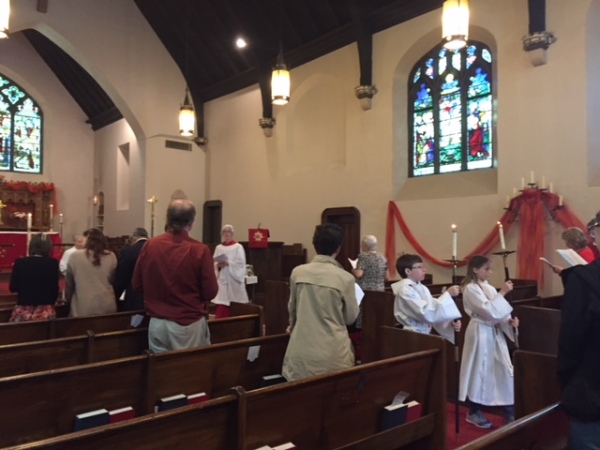 This celebratory worship service includes acolytes in procession, congregational singing, and instrumental offerings by musicians. Known as Rite II in Episcopal speak, the liturgy in this intergenerational service uses contemporary poetical language to lead us in joyful celebration. Services include Scripture reading, a sermon, Holy Eucharist, communal prayer, and music. There is Children's Chapel for our children and the children play significant roles in our worship. Music is taken from both traditional and contemporary musical resources. Warren Blyden, our Music Director, also provides organ or piano accompaniment for the hymns.