Sunday Worship During COVID-19
During this pandemic, all of St. John's Services are online on our ​​YouTube channel or our Facebook Page. These are Services of Morning Prayer, with Hymns. All are invited to join us for ZOOM Coffee Hour. Links published on our FB page and this website each Sunday morning.
Additionally, Mother Mary is holding NOON Zoom Prayers every Tuesday at 11am and Zoom Bible Study every Wednesday at 11am. ZOOM links for these two events are published on St. John's Facebook page each Tuesday.
Our in-person Sunday services are held out of doors, until weather demands we move inside. Please join us in our private cloister area for Morning Prayer. We will be celebrating Holy Eucharist once each month for the foreseeable future.
COVID-19 protocols are located here.
During non-COVID times, we will continue our on-line Services and return to more traditional in-person Worship as well, with two Services each Sunday morning. As follows:
Eucharist at 8:00 am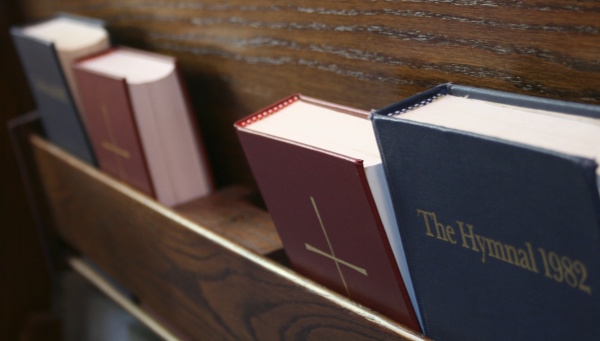 This service features language reminiscent of the 1928 Book of Common Prayer in its liturgy and includes readings from both the Hebrew Scriptures and the New Testament. Prayers are offered, a sermon is delivered, and the sacrament of Holy Communion is celebrated. There is no music at this service. It is often described as a more reflective, meditative worship experience. For those familiar with the Book of Common Prayer, this service follows the liturgy of Rite I.

Choral Eucharist at 9:30 am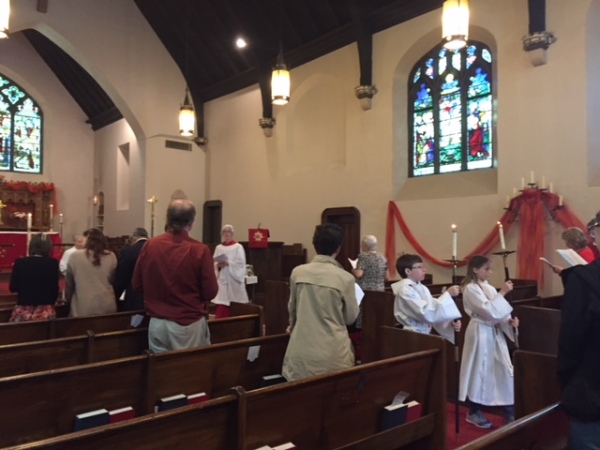 This celebratory worship service includes acolytes in procession, congregational singing, and instrumental offerings by musicians. Warren Blyden, our Parish Musician, provides organ or piano accompaniment for Hymns, in addition to Scripture reading, a sermon and communal prayer. Known as Rite II in Episcopal speak, the liturgy in this intergenerational Service uses contemporary poetical language to lead us in joyful celebration. Kids play significant roles in our worship. Music is taken from both traditional and contemporary musical resources.