Founding and Early Years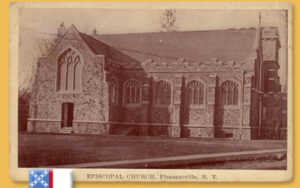 St. John's Church has been a part of the Pleasantville community since 1853 when along with St. Stephen's in Armonk and St. Mary the Virgin in Chappaqua, it was established as a mission church of Grace Church in White Plains. The Rev. Robert W. Harris, Rector of Grace Church, was the Priest-in-Charge. Services were held in a schoolhouse in the Old Village until 1885.
In that same year the congregation occupied a new sanctuary on Bedford Road which served as its home until the present building was occupied in 1912 under the rectorate of The Rev. Dr. Stephen Holmes. The former building now serves as the Pleasantville Community Synagogue.
To meet the demands of a growing church community, the parish hall was added on at a cost of $52,000. Built of native stone with a roof of Vermont slate, it was completed in 1929 under the rectorate of The Rev. Emmons Parkman Burrill. In 1972 the classroom and office wing was completed.
In 2015 St. John's undertook the restoration of the exterior stonework of the church and Parish Hall. This project repointed the stone, closed the gaps, repaired the large gutters, and replaced 100-year-old drainage systems.
Where once a river ran through it, the buildings are now sealed to the elements. This was accomplished while The Reverend Mary B. Gregorius was Rector, with the forward-thinking leadership of Peter Russell and William May. Grants for this project were secured by a team led by Elizabeth DeVito from the Bedell Foundation, NY Conservancy, NY Landmark Association, and the Episcopal Diocese of NY.
Our Rectory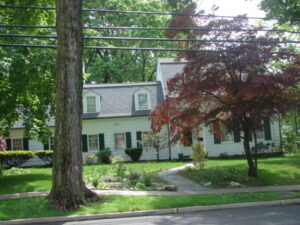 The oldest section of St. John's Rectory dates to 1734, the newest section was constructed shortly after the Revolutionary War in 1785. Our Rectory is the second oldest house in Pleasantville. It was purchased in 1920 by Miss Caroline Choate, a devoted member of St. John's. The Rectory was modernized with plumbing, heating, and storm windows before Miss Choate bequeathed it to St. John's to be a comfortable home for the Rector. The Rectory was placed on the National Register of Historic Places in 2015.